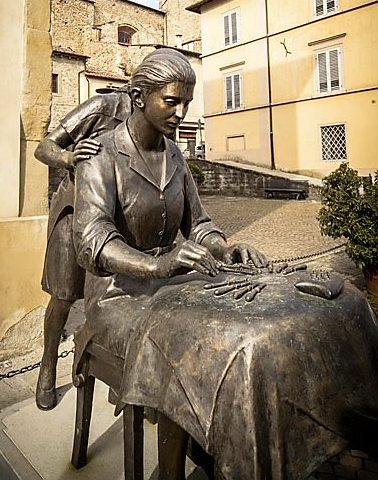 The Valtiberina
The Valtiberina is the valley where the Tiber River is born, it is linked to the figure of Piero della Francesca, born in Borgo Sansepolcro, and Michelangelo Buonarroti, born in Caprese Michelangelo. In Anghiari, one of the most beautiful villages in Italy, in the Museum of the Battle, you can relive the Battle of Anghiari fought in 1440, and discover the history of Leonardo's lost painting.
Walking through the village we can get lost in the alleys and in the shops inside the ancient walls and admire the art of the bobbin lace ("tombolo"} that has been handed down for generations.
The whole territory offers the opportunity to hike and get up close and personal with the production of the famous Tuscan cigars, the Tornabuoni, which come from the cultivation of Kentucky tobacco, to visit the Aboca company, a leader in the production and processing of medicinal plants, and last but not least the gastronomy of the area that leads to the discover of truffles, homemade pasta and chestnuts.
---